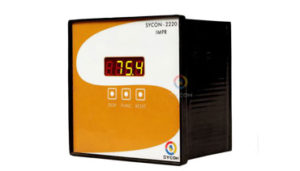 One of my friends is chemical engineer and entrepreneur. He founded his own chemical company few years back. He is in the business of household an industrial cleaning material. During this pandemic, he is flooded with purchase ordars and he is hardly able to accomplish them in time. But he is hard working.
Today morning, He called me and was very much worried. One of his critical machine's motor was burnt. Already he was trying hard to complete the Orders and this happened. He was about to lose almost 20 hours to replace this motor with rewound motor. Although rewind cost was not much but the breakdown cost, set down cost and setup cost in terms of time and money was in lakhs. Have you ever had been in such a situation? – May be. Do you ever wish to go in such type of situation? – Never. Right.
I suggested him to install a SYCON motor protection relay with all the critical process motors in his plant.  If installing something worth 1% or 0.1% of the total cost we would be saving in future; it is really worth installing. Now it will guard his motors from most the frequent faults that are the cause of induction motor burning. He would not have to lose 20 hours of production time. And you too know very well what amount of loss it is without 20 hours of production time. Both – Tangible and Intangible.
For more information on our Motor Protection relay, please visit –