Earth Leakage
Earth Leakage is the current flowing through the earthing conductor connected to electrical appliance or if earthing conductor is not provided, it is the current that may pass to the earth if any conductive path is provided from the appliance to the earth.Earth leakage is the flow of current to the earth from a current carrying conductor through its insulation.
Effects of Earth Leakage
Any electrical appliance's body is generally grounded or electrically connected to the earth. Usually a thick copper conductor (for very very high conductance) is connected from the machine or electrical appliance's body. In case if any current carrying conductor insulation get damaged or get burnt and that conductor touches the body of the electrical appliance, electrical current starts flowing through the earthing conductor. This is harmful condition for the machine performance. The machine's electronic parts may get damaged and machine may go under maintenance which in turn may hamper the productivity.Meanwhile if the earthing conductor is damaged or earthing is not proper, the condition is dangerous for human being working on that machine. He/she may become the conductor through which the current will be grounded i.e. the person will receive an electrical shock.This is life threatening.
Detection and Fixing of Earth Leakage
This earth leakage is detected using a core balance current transformer (CBCT) and a earth leakage relay (ELR). The CBCT identifies if there is any earth leakage from the electrical appliance. This CBCT is connected to ELR which in turn checks if this earth leakage is within predefined range. If this current exceeds this predefined range of current for a predefined time continuously, the ELR operates a contact. You may connect this contact to trip the appliances from the electrical supply. This will ensure the safety of machine from any further damage.
We, at SYCON, offer Earth Leakage relay in our product basket. We offer it in three standard ranges of 30mA-300mA, 300mA-3A and 1A-8A. We can provide any other customer specified earth leakage current range with any customer specified time range. We provide CBCT of any shape and size whichever is suitable with customer's bus bar or cable requirements. We provide ELR in panel mount and DIN rail form. For more information, please click here.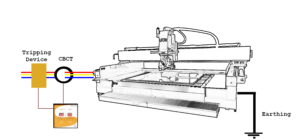 So it is absolutely necessary to keep checking the earth leakage from your own or your customer's appliances.It is advisable to install ELRs unit with proper CBCTs for the safety of your appliances. This will save you or your customer from machine breakdowns and save great amount of time and money.
Good Luck !!
.